COARSE-GRAINED SILICATE MORTAR
Coarse-grained silicate mortar is a cement-bound ready-mixed mortar with the granularity of 0 - 4 mm for repairing defects in the concrete surfaces. The contained silicates achieve inter alia exceptional strength values. Ready for use - only add water.
Contents of the sack 25 kg
Addition of water: 2.8 - 3.1 litres / sack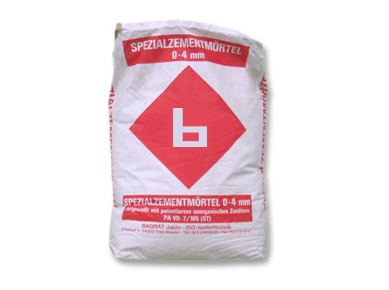 FINE-GRAINED SILICATE MORTAR
Fine-grained silicate mortar is a cement-bound fine-grained mortar for smoothing repaired or rough concrete surfaces. The work is carried out on a slightly moist underground.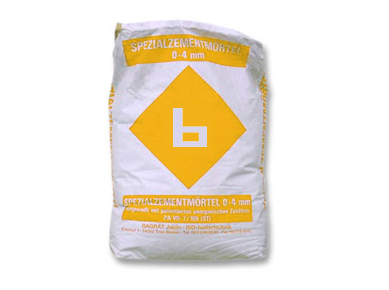 BAGRAT® BONDING LAYER
Cement-bound powder component for producing a bonding layer underneath the silicate mortar.


BAGRAT® ES 2K
Bagrat® ES 2K is an elastic slurry with two components.
It consists of Bagrat®-FM, a cement-bound silicate mortar as powder component and Bagrat®-Flex, a polymer dispersion highly resistant to saponification and free of solvents.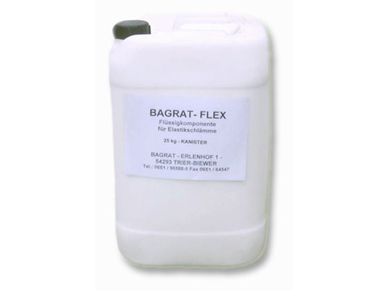 Properties:
Highly flexible, also under low temperatures

High UV resistance

Watertight

High CO2 repelling factor

Does not impede the water vapour diffusion

Adheres excellently to mineral undergrounds, metal, plastics and also to moist underground

Protects steel surfaces against corrosion

Ranges of application:
Sealing balconies and terraces

Sealing moist rooms and bathrooms

Sealing corrugated roof coverings and trapezoidal roofs

Coating of concrete construction elements that are not passable and are within the spraying zone of de-icing salts

Slows down the carbonisation of the concrete

and much more



SVM/SWELLING MORTAR
Our fast grouting mortar is a grouting mortar mixed at the plant and cement-bound. After adding the prescribed quantity of water a well flowable mortar is produced that does not show and exudation of water or sedimentation of aggregates. A fast setting and a quick development of the compactness is achieved by special additives. This is also feasible under low outdoor temperatures.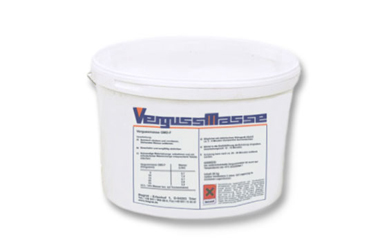 Properties:
Offers good corrosion protection of enclosed steel parts

Sticks excellently on steel and concrete

Is resistant to the effects of frost and de-icing salt

Is impermeable to water and oil

After 30 minutes waiting time it is already so much hardened that the formwork can be removed

Totally chlorine free

Compensated against shrinking

Hardens also down to -5 °C

Useful for filling as B.-swelling mortar

Ranges of application:
In road construction

To pour in stair railings and or steps

To pour in armatures

and much more




Telephon:
+49 (0) 651| 96 888-0
Fax:
+49 (0) 651| 64 54 7
E-Mail:
info@bagrat.de
Internet:
www.bagrat.de